Produced in Europe. 100% quality guaranteed.
All fabrics 100% are inspected upon receipt on a light table

Garments are 100% manually inspected by 4 independent controllers

More than 45 years of experience
Working principles and ethics
We strive to be the most reliable partner. 
Quality and being in-time are the two values we hold to be the most important. 
To reach the targets we constantly improve our professional and team working skills.
We are truly open and welcoming customers at any stage of production. Transparency including price setting is offered to clients.
We are very open for a close collaboration to reduce waist and increase efficiency.
Sustainability
Although we do not spend money to acquire certificates, we are outstanding in sustainability:
Nemo complies with all the laws of Latvian republic, including 8 hour and 5 day working week, paid vacation, 10 days paid sick leave, maternity leave and national holydays.  We provide safe work environment. Employees has right to say about working hours. 
It is a family business and we treat our staff as an extended family for example – we have management-line workers tea time every week, we have common parties and sports activities. We measure satisfaction of our employees.
We employ people with special needs, we participate in EU programs to prolong working life of people above 50, we have spent significant amounts to incorporate jobless people, and we provide space and equipment for technical college free of charge. 
We donate much of the fabric cuttings to schools, elderly houses and kindergartens
We do not use any hazardous chemicals for garment treatment. We do not dye, bleach or wash. We only cut and sew.
We sort our waste and utilize it according to EU standards.
95% of our suppliers are European based. We also can provide with polybags and hangers made from recycled plastic. Choice of fabric and trimming is in hands of a client, we can help with sourcing recycled PES lining. 
Latvia is an EU state for more than 15 years and has ratified EU directives such as Reach.  We are as sustainable as other European companies. May be not so wealthy to invest to rebuild our factory but instead we suspend any unnecessary waste. 
Upon request we can personalize your orders with a signature of quality controller, we can participate in any other personalized cooperation.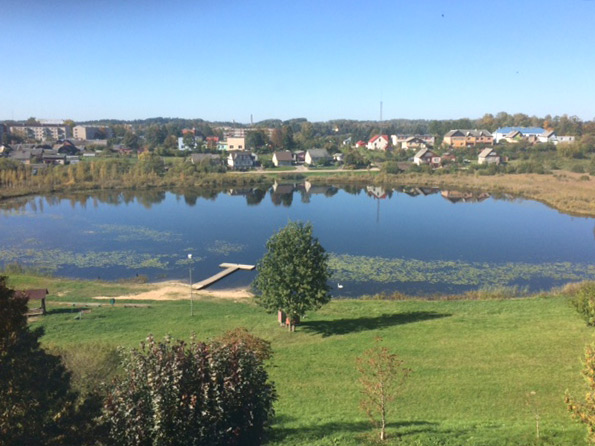 View from windows of factory. The lake is so clean that we have a family of swans there every summer.